Amazfit GTR 2
48,900 LKR
About this item
[3D Curved Design & HD AMOLED Screen] The Amazfit GTR 2 smartwatch features a 1.39-inch high-definition AMOLED screen with 326ppi pixel density, covered in 3D glass, which naturally transitions to the stainless steel watch body, resulting in a better visual aesthetic and a wider content display area.

[All-round Health Tracking] The Amazfit GTR 2 smartwatch can provide 24-hour heart rate monitoring, blood-oxygen saturation measurement, sleep quality monitoring and stress level monitoring. Also included is the PAI health assessment system, which uses algorithms to convert all of complex health and activity data into one single score, to help you understand your physical state at a glance.

[90 Sports Modes & 5 ATM Water-resistance] The Amazfit GTR 2 sports modes includes 90 built-in sports modes and is waterproof to a depth of up to 50 meters. Intelligent recognition of 6 sports modes also eliminates the need to manually select the sports modes, so the watch is always ready for action.

[Ultra-long 14-day Battery Life] The GTR 2 sports watch is equipped with a powerful 471mAh battery that can last 14 days with typical use, and is always ready to escort you wherever your exercise takes you.

[3GB Music Storage] Control mobile music playback through the watch via Bluetooth, and transfer your favorite songs to the smartwatch through your mobile phone, with a massive 3GB of local music storage. Put your wireless headphones in, your phone down, workout, and follow the rhythm of the music anytime, anywhere.
0
People watching this product now!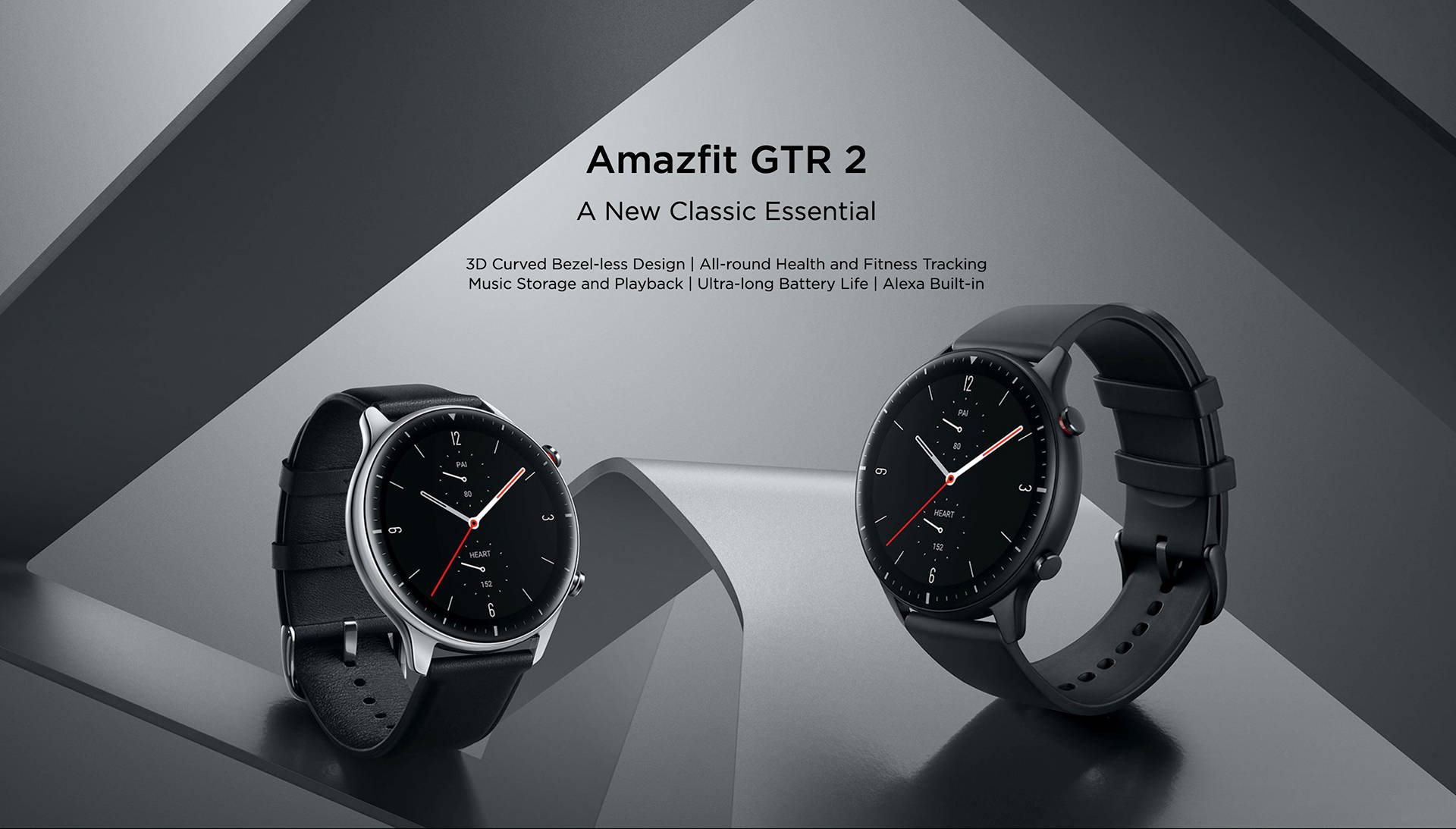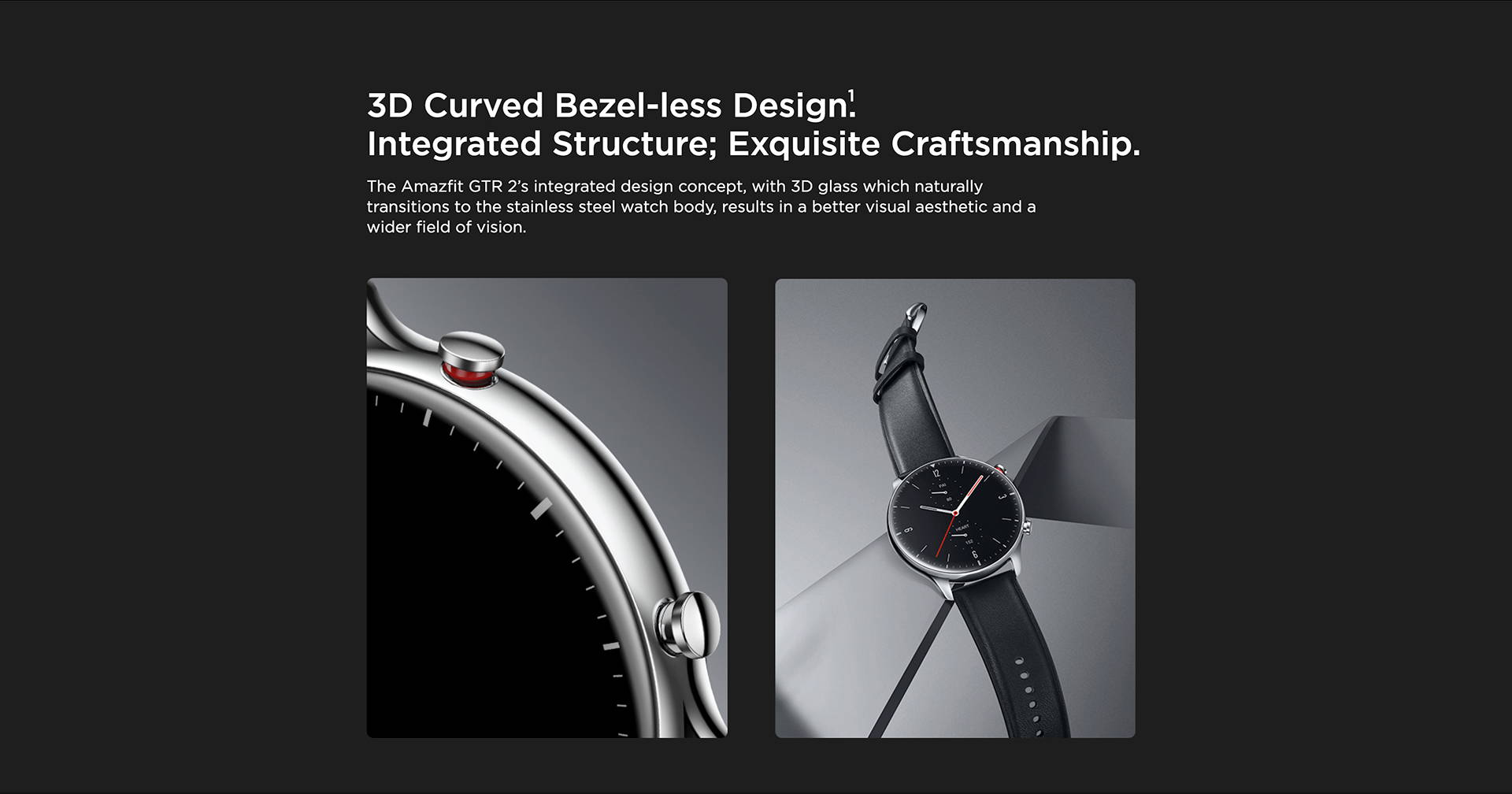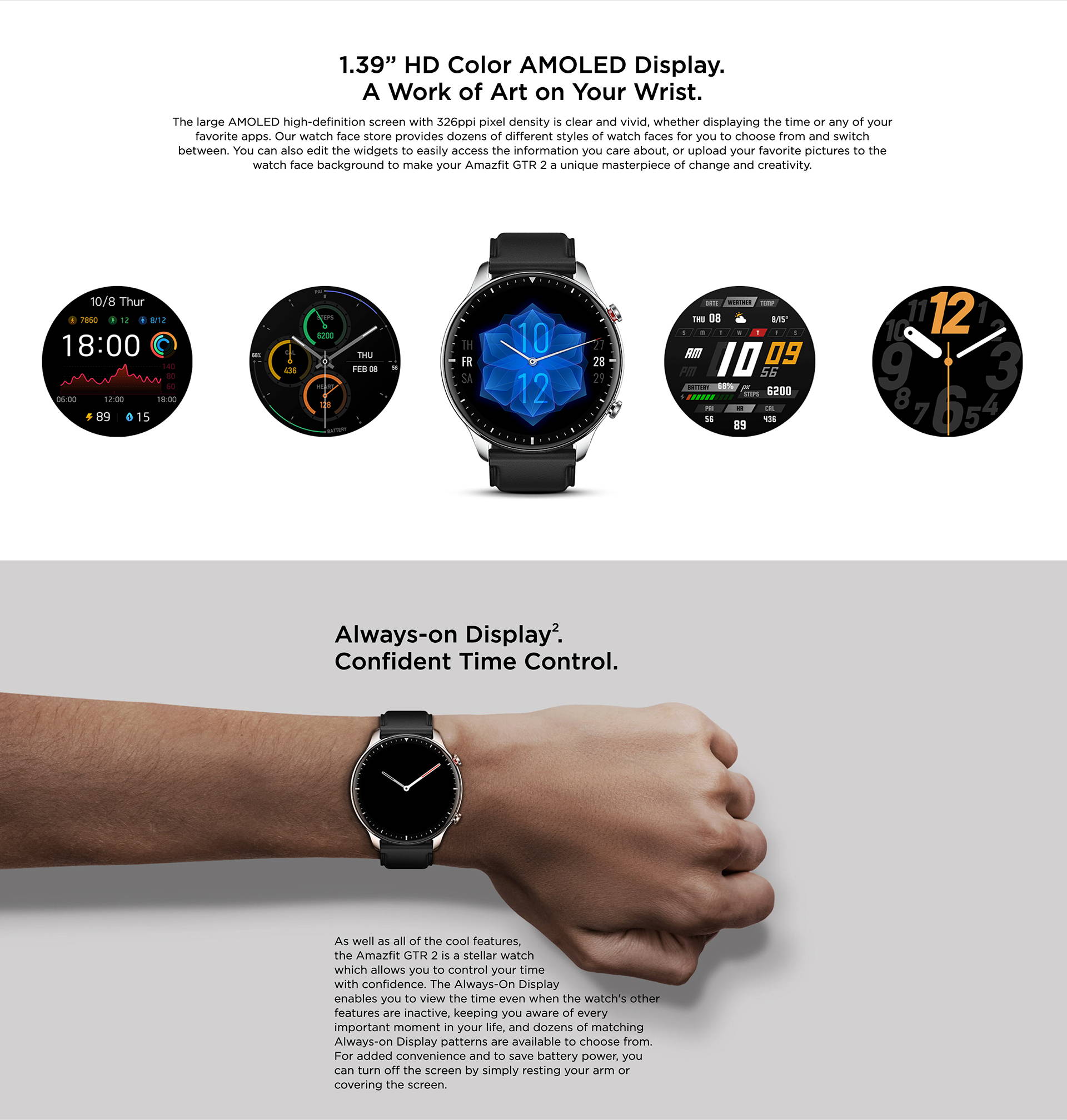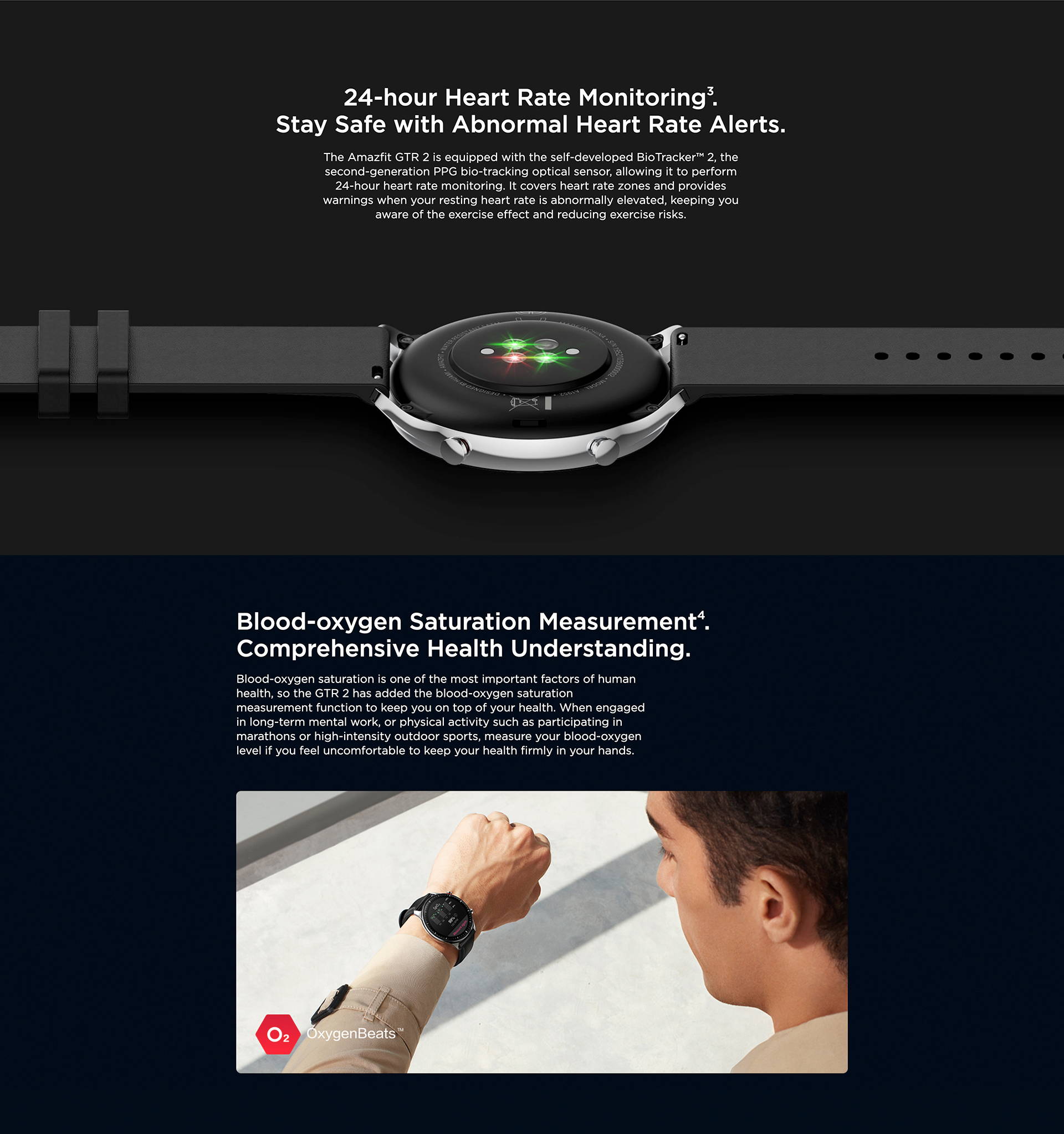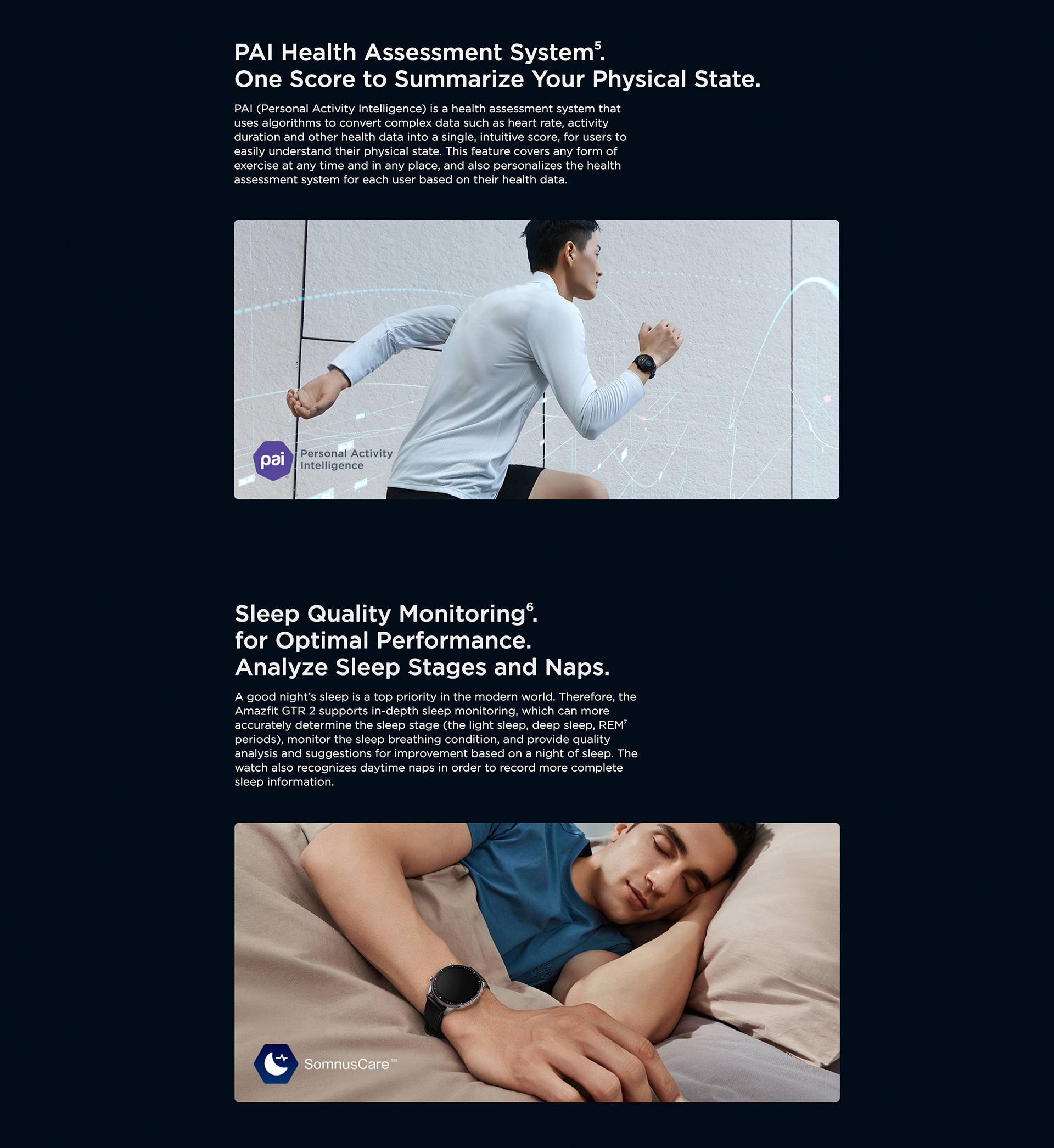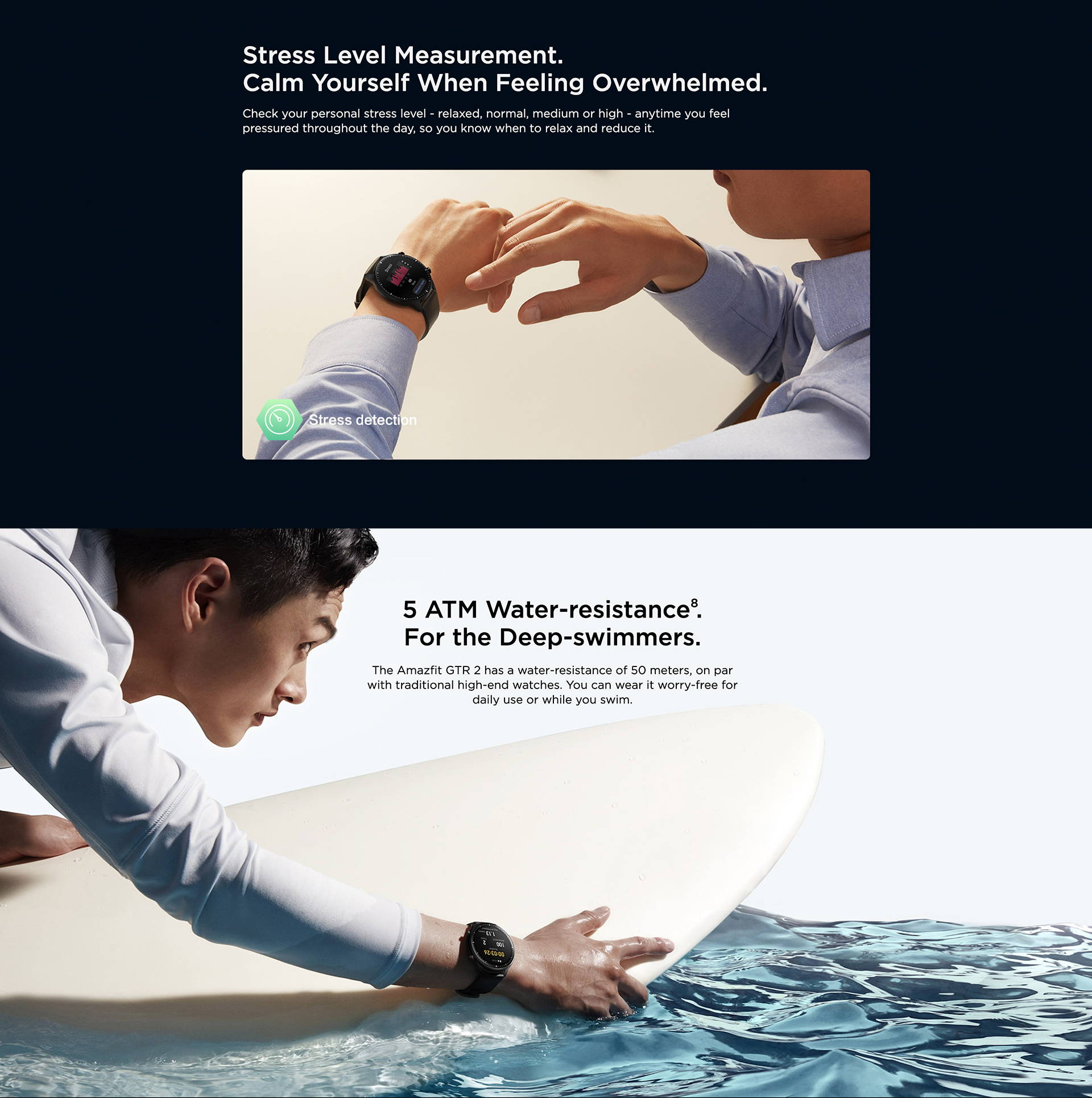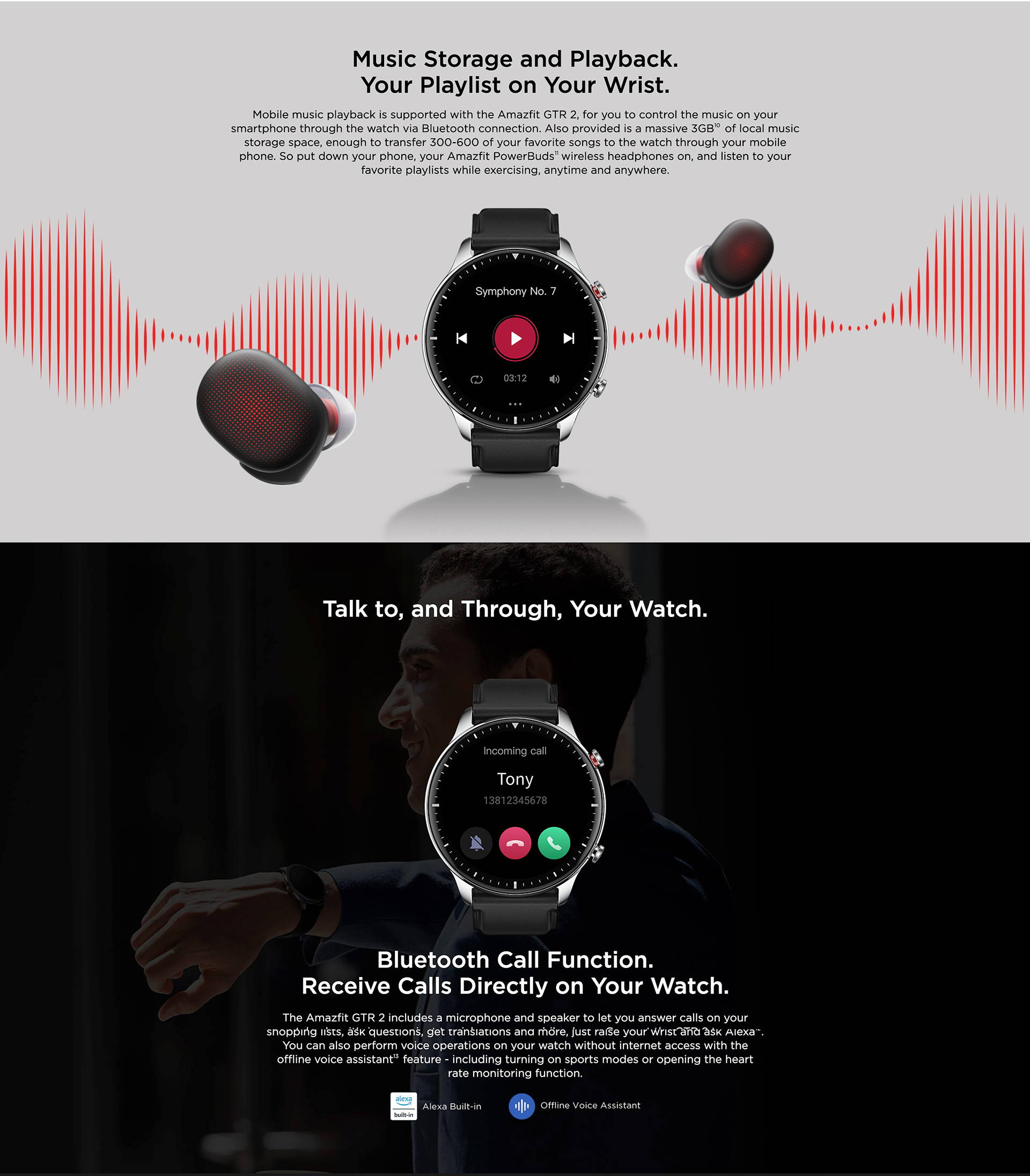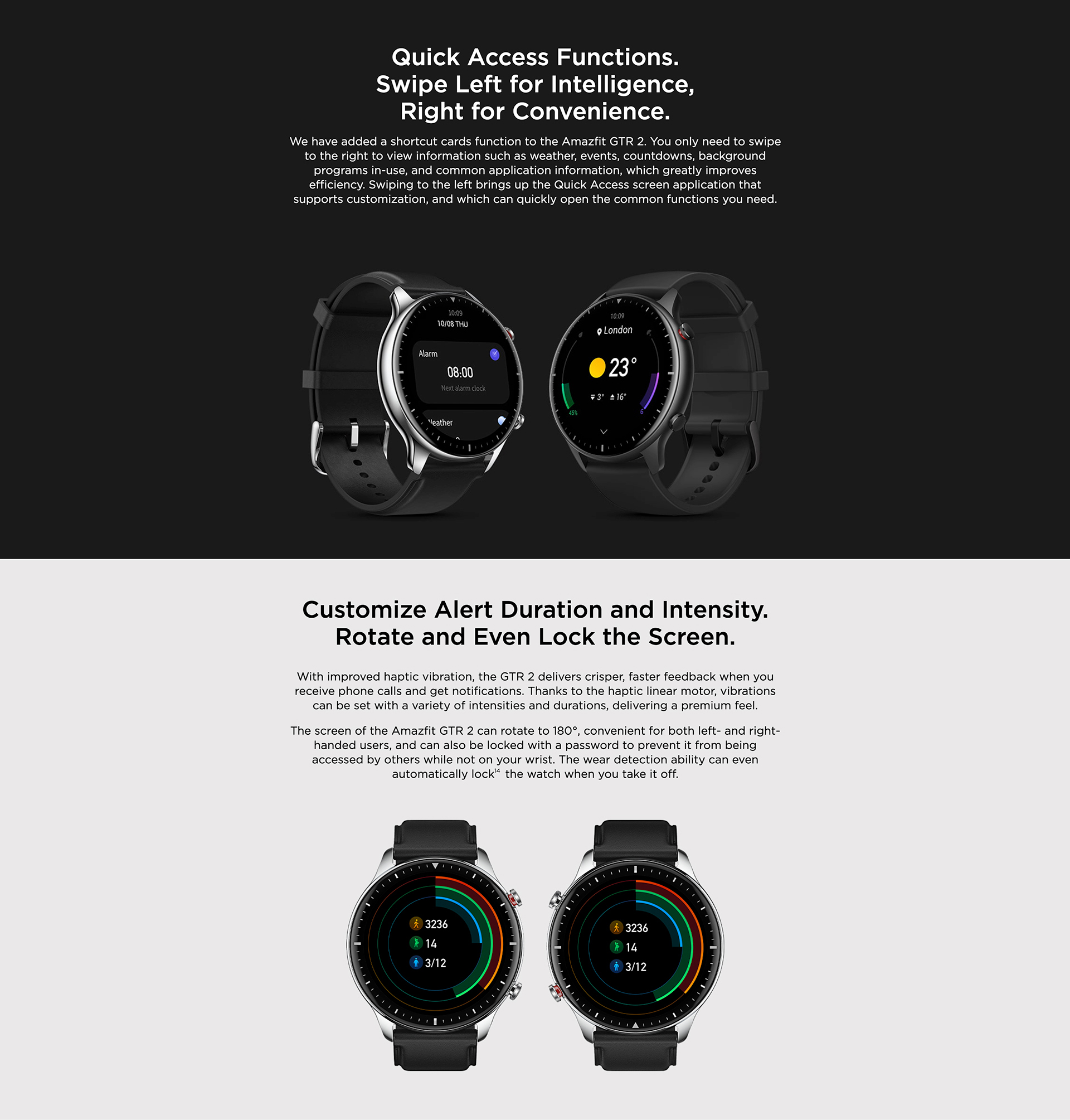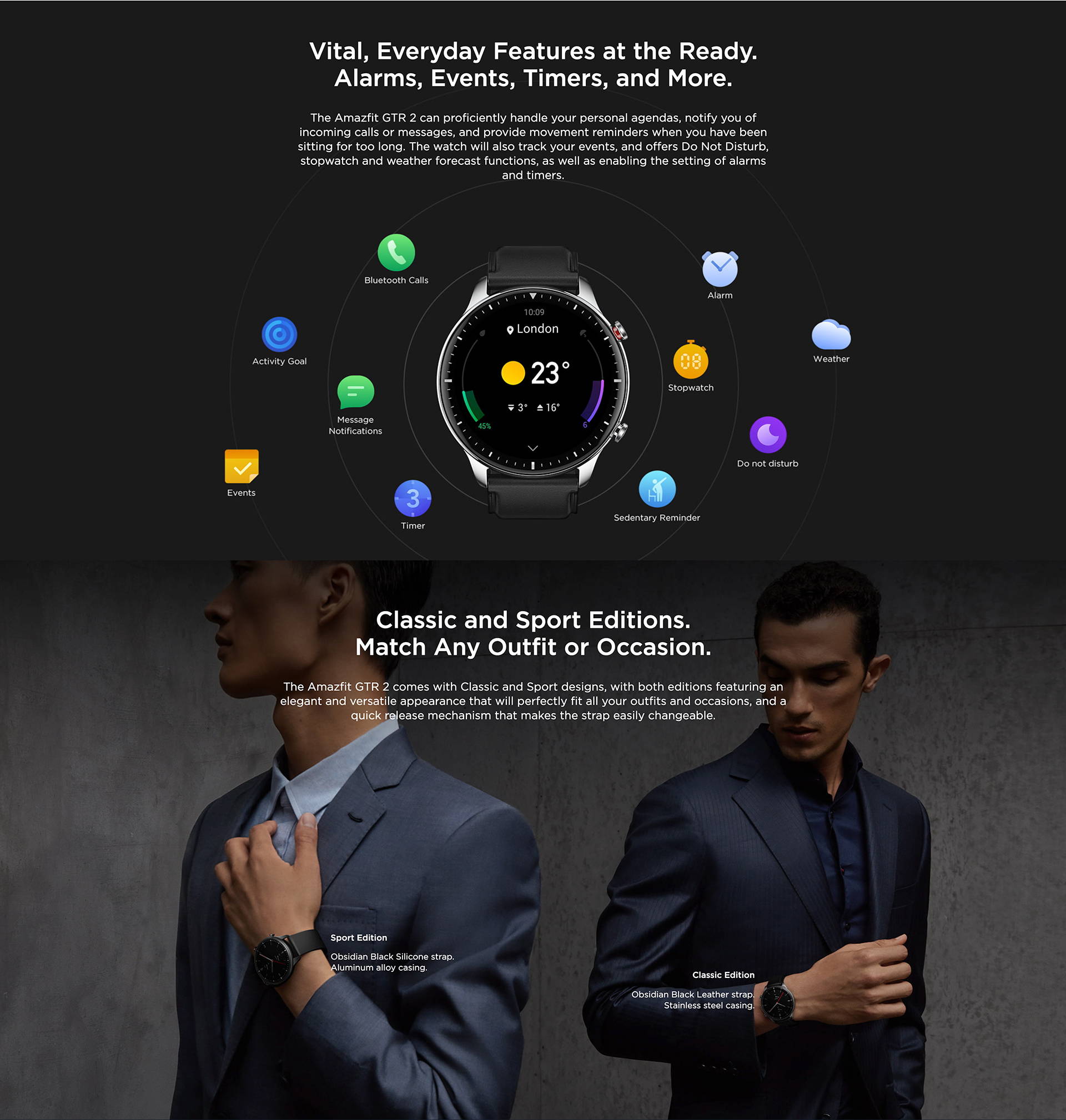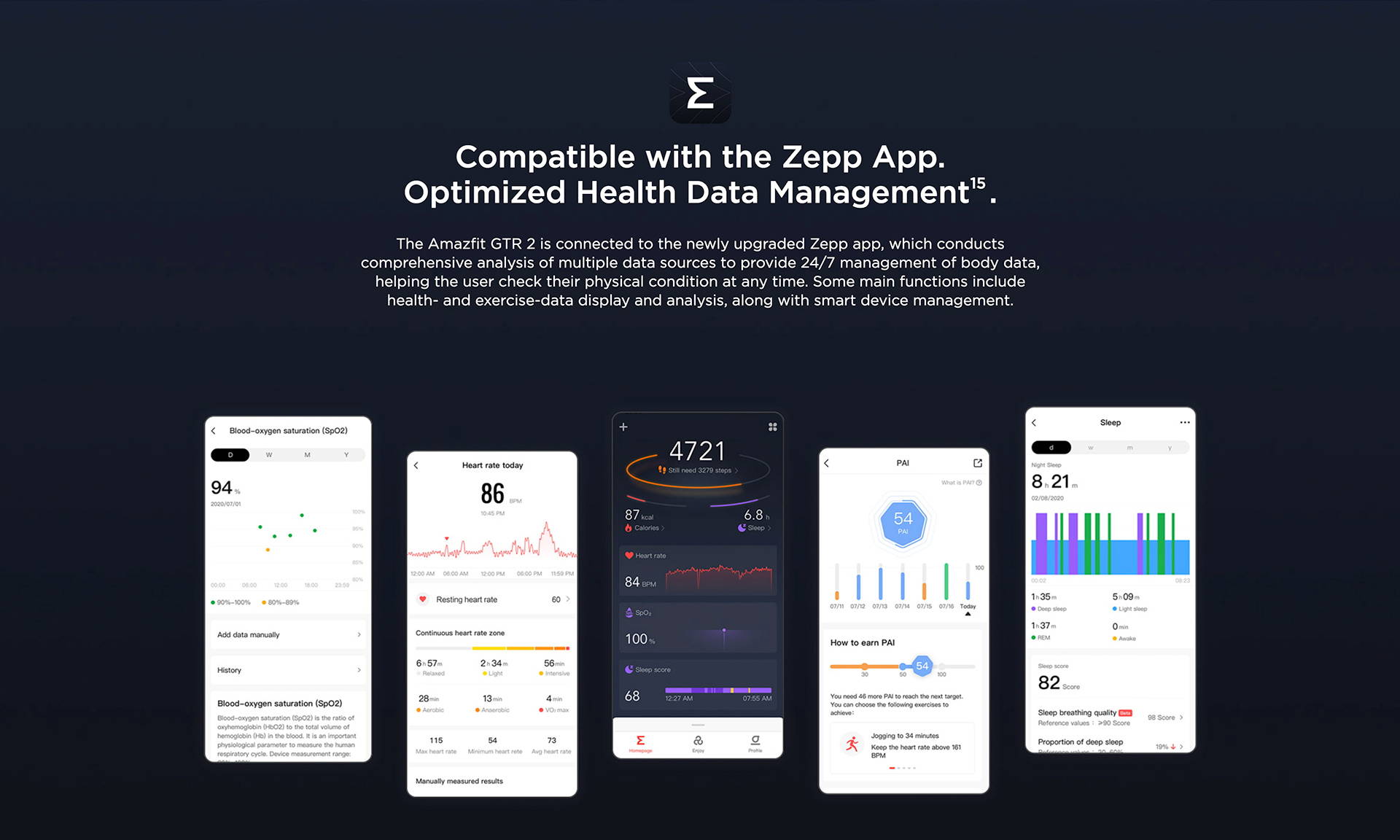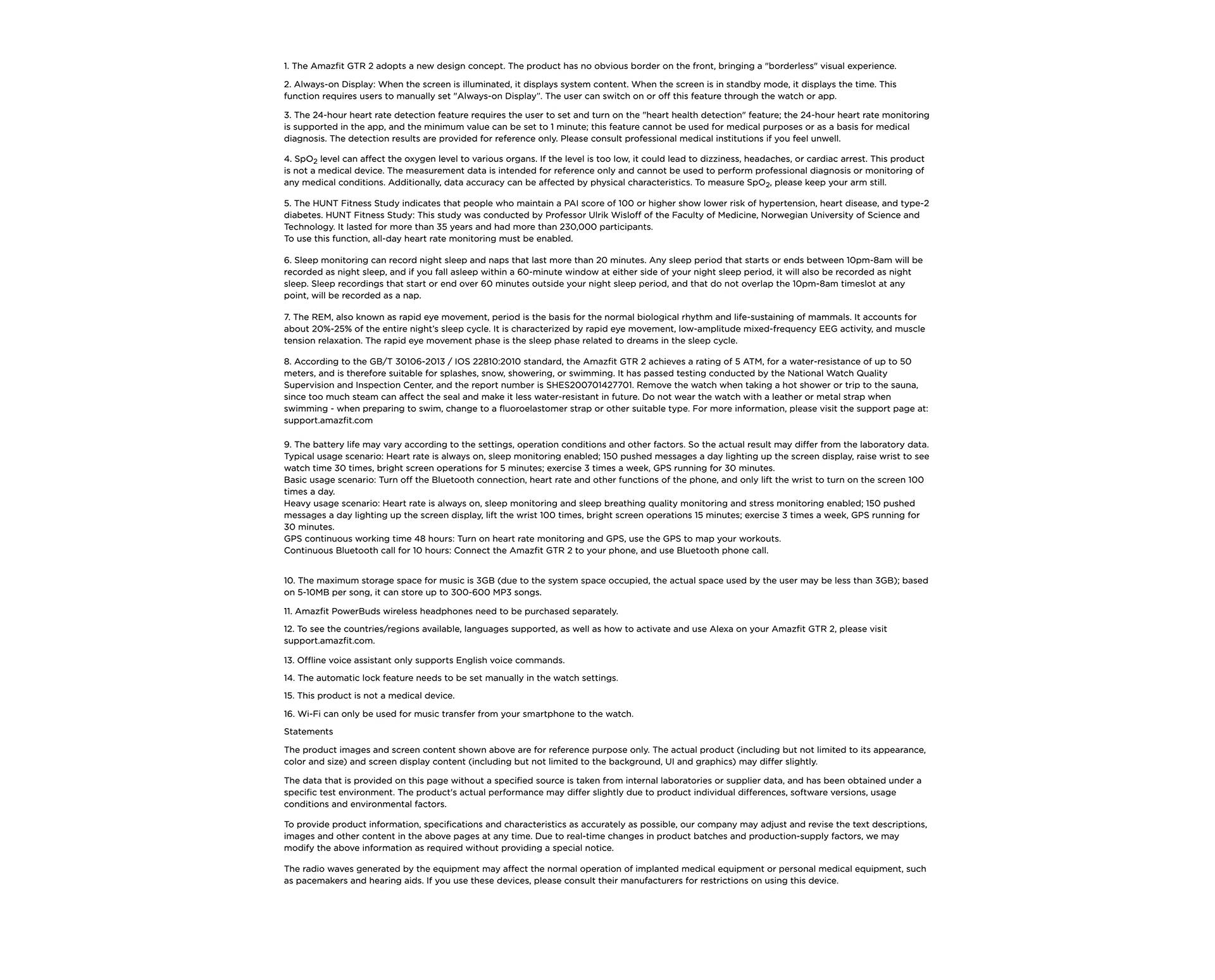 THE BRAND & COMPANY Huami Technology was founded in 2013. It is a company listed on the New York Stock Exchange (NYSE) in the United States (stock code: HMI), and is also the first smart hardware company in China to enter the US capital market. The company's mission is to "connect health with technology". With a "chip + device + cloud" strategy, Huami offers chips, smart wearables, and health cloud services, and expects to build a global healthcare ecosystem and be the most trusted partner for our users. As a globally leading smart wearable innovator, Huami's main products are wearable devices such as smart bracelets, smart watches, and sports earbuds, and products related to sports and health such as treadmills, weight scales, body fat scales, shoes, and clothing. The company offers seven series of smart watch products under the independent brand Amazfit, including the Stratos series, Basic series, Flagship series, Health series, Fashion series, Outdoor series, and X series. In addition, at CES 2020, the company launched its first professional truly wireless sports earbuds and smart treadmill products. With a complete line of product offerings and outstanding product experience, Huami maximizes its ability to satisfy the different needs of different consumer groups. Huami Technology and Disney launched a number of customized products based around the Avengers, Star Wars, and other themes, which have been very warmly received by users and fans. As of August 27, 2019, global cumulative shipments of Huami's smart devices exceeded 100 million units. In the first three quarters of 2019, Huami Technology's total shipments reached 27.6 million units, an increase of 50.8% year on year, exceeding the full-year shipments of 2018. Of these, in the third quarter, shipments were 13.7 million units, marking the first time single-quarter shipments exceeded ten million. Revenue of over 3.7 billion yuan was reached in the first three quarters, an increase of 52.9% year on year, and also exceeding the full year of 2018. Huami Technology launched the world's first smart wearable chip based on the RISC-V open source instruction set—the "Huangshan 1", which has seen large-scale use in its original Amazfit smart watches and smart bracelets. With 200% higher atrial fibrillation judgment efficiency than non-AI processors, these are AI chips that are truly for health. Overall design has also been completed for the next-generation "Huangshan 2", which will enter mass production in 2020. Huami Technology possesses a massive pool of sports and health data, and has launched its health cloud service. As of September 30, 2019, Huami's smart wearable devices recorded a cumulative 81.2 trillion steps, a cumulative sleep record of 7 billion nights, total heart rate records of 21.1 billion hours, and 14,890,000 ECG electrocardiogram datasets, thereby detecting nearly 70,000 cases of suspected or preliminarily screened out atrial fibrillation. Huami Technology has also established its own team of medical experts, more than 90% of whom possess a master's degree or a doctorate. In cooperation with the Department of Cardiovascular Medicine of Peking University First Hospital, a clinical study on atrial fibrillation detection by smart wearables was conducted. The results showed that the accuracy of ECG and PPG in determining atrial fibrillation is as high as 94.76% and 93.27%, respectively, reaching the level of professional human physicians. Huami Technology is rapidly going global. Overseas shipments accounted for more than 50% in 2019. Amazfit smart watch products are sold in more than 70 countries and regions, including the United States, Germany, and Japan. At present, in addition to China, in Russia, India, Indonesia, and other countries, Amazfit is one of the top three providers in the local smart watch market (according to IDC's 2019 Q3 data). The company also has numerous channels and strategic partners around the world, including Timex, the long-established US watch brand, and US digital medical company AliveCor. In the field of sports and fitness, Huami Technology has acquired the core assets of multi-sport sensor company Zepp and the Adidas Group's Physical Enterprises Inc (PEI), allowing it to maintain its leading edge in the field's technology and products. Huami Technology is also continuously increasing its investment in cutting-edge chips. As a Platinum Member of the RISC-V Foundation, the company has invested in two startups in the field, SiFive and GreenWaves Technologies. The company has also invested in Nurlink and BlueX as it continues to improve its wearable and IoT chip layout. As an innovative company, Huami Technology also cooperates extensively with famous universities in China and abroad in research and development, products, and education. At present, Huami Technology has cooperative relationship with foreign universities including the Norwegian University of Science and Technology (NTNU), Stanford University in the United States, and the University of California, San Diego (UCSD). At home, Huami Technology works with famous universities such as the University of Science and Technology of China, Tianjin University, and Beijing University of Aeronautics and Astronautics. Huami Technology currently has more than 1,100 employees, and has offices in Hefei, Beijing, Shenzhen, Shanghai, Nanjing, and Silicon Valley.